Assateague & Chincoteague Island Waterfowl Hunting in Virginia
"Assateague Island National Seashore is a vital link in the life cycle for migrating waterfowl in the Atlantic Flyway."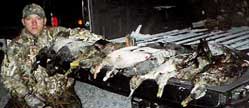 Our Virginia waterfowl hunting is located in a great part of Virginia, near the legendary waterfowl areas of Assateague Island National Seashore, Chincoteague National Wildlife Refuge and their vast surrounding wetlands & waterways. Come hunt the ducks and geese that fly on and off the refuge areas. Our hunts depart from Chincoteague Island, Virginia to hunt ducks and geese that migrate each year to Assateague, Chincoteague and their vast surrounding wetlands. This area is renowned for its abundant / unspoiled wetlands. Our hunts are available from Nov 17, 2012 to Jan 26, 2013. This is the time of year when the birds are here, many species are open and the weather is good for hunting. ESPN recently picked the Chincoteague National Wildlife Refuge as #2 in the country. This area in Virginia has a very low human population density with low hunting pressure and one of the most diverse waterfowl populations found anywhere. Our hunts take you to a vast expanse of coastal wetlands along Virginia's barrier island habitat where a large variety (over 20 species) of waterfowl migrate to each year.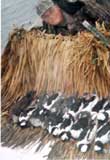 Assateague Island is one of the favorite destinations for waterfowl in the Atlantic Flyway and can produce some of the best wingshooting and waterfowl hunting that can be found! Large concentrations of ducks and geese are common throughout the season. Waterfowl hunting is legendary here because of the refuge, its location, abundant wetlands, open water and readily available food. Chincoteague Island and its nearby wetlands are known for their scenic unspoiled beauty. Besides ducks and geese, you will find amazing outdoor vistas. Your dog is welcome.
You will enjoy an assortment of blinds in many areas just waiting for the ducks and geese that fly from Assateague and other coastal places near Chincoteague. You will hunt in scenic locations that provide an enjoyable waterfowl hunting experience. A steady abundance of waterfowl can be found here. We have a variety of fixed blinds and are ready to help you during your waterfowl hunting trip. We have the decoys and can assist you to your blinds.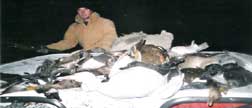 Virginia Waterfowl hunting expeditions founded by a Chincoteague Island native and former commercial fisherman that hunted here since the 1970's and knows the area. Our staff tries our best to put you under the ducks and experience waterfowl hunts of a lifetime. Waterfowl hunting is different each day and no two days are alike, many ducks and geese are here each year, but we can not gurantee flight patterns each day. The abundant open waters and vast wetlands here in this part of Virginia create an awesome environment for large numbers of migratory waterfowl.
Situated strategically within the "Atlantic Flyway", our snow goose populations alone can range as high as 50,000. Nearly all types of North America's waterfowl species exist here and large concentrations of waterfowl are common throughout the season 11/17/2012 - 1/26/2013.
We generally meet you about 5:15 am. to hunt all day until sunset. We can help you return for a short break to grab some lunch, use the rest room or ride through the nearby wildlife refuge. The early morning sunrise and afternoon sunset are spectacular while waterfowl hunting here in Virginia.
Call and book your hunt soon and ask if you need any other information (recommendations for a hotel or any special needs you may have). We strive to provide assistance for a safe & enjoyable hunting trip for you.